Box set of handmade cards to support Anandwan leprosy community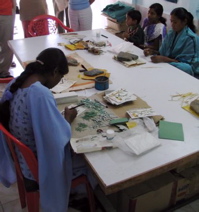 This photo show the women at work in the Gift-card workshop in Anandwan. Some of the men and women working here will be widowed, cured leprosy patients, or physically different in some special or beautiful way. They are always happy to show the way they make these cards out of natural materials like rice straw, banana bark.
Often their children will come to work with them so the workshop has a very lively energy, with burst of laughter and chatter.
Each card has an individual feel and is a unique piece of art.
Click on a card below if you would like to see a larger version.
Thank you for supporting Anandwan, all the money you give will go directly to Anandwan. (excluding postage charges)
This a secure link to Paypal.com, you can pay buy via your credit or debit card or use your paypal account.
Postage to a UK address is included in the cost.
If you are outside of the UK or if you would like to pay in another way please contact us.
Please write your prefered method of payment, and your country.