What is SanghaSeva?
See Technical Definition of the Organisation below
SanghaSeva facilitate "Meditation in Action" retreats in Europe, India and Israel-Palestine.
Our retreats integrate meditation, observation and reflection with participation in positive actions for the benefit of others and the world.
Active Contemplation
We feel that meditation, contemplation & spirituality, are not just passive & solitary pursuits, but can be active & engaged ones. That there is real benefit in, and genuine possibilities of, finding ways to transform self, other & the world through engagement.
Whether we are planting trees on deforested land, openly listening to people's suffering or massaging the stiff limbs of a healed leper, love and wisdom can come through. We can embody, actually bring into being, our deepest aspirations by being "the change we wish to see in the world". (Mahatma Gandhi)
SanghaSeva was initially born from the heart to give back to the world. To take all the love, compassion and wisdom we can cultivate alone and spread them outwards. Yet rather than waiting until we feel ready, have enough, or are perfected, we can already use the form of interacting, sharing, and engagement to help others and ourselves.
In the words of Pema Chodron: 'we work on ourselves in order to help others, but also we help others in order to work on ourselves.'
Definitions
The name SanghaSeva is made up of two words: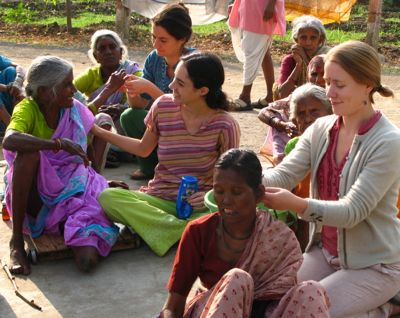 "sangha-" this part means a group of people who feel connected to a similar cause, a community of spiritual friends, a body of heartful activists.
"-seva" means offering the best we have to give. Oftentimes it is translated as selfless service: An action which benefits another as much as it benefits us, as long as we wish to cease being self-centred, that is.
We also refer to our retreats as "Connected actions for active connection". This definition of SanghaSeva further brings the feeling of the mutuality and of reciprocity between activity and contemplation. As we experience it each one deeply supports the growth of the other.
Therefore we aim to offer opportunities to explore living fully through positive actions. This is not just an attempt to 'do good' and then feel better about ourselves, but stems from a deep wish to bring compassion and love to the suffering on this earth.
While at the same time, and hopefully from the same depth, we acknowledge that we are simply a part of everything and therefore growing, learning, and evolving through the process of sharing.
We feel that by utilising the wisdom of contemplative practices we can touch into that which connects us all. When we can act from there we find that we have more freedom to hold conflicting views and opinions, have more space to allow life to unfold, and more wisdom to find the appropriate response.
The Retreats
In our retreats we are called to explore our balance of being and doing, to investigate what is really helping, and to expand our boundaries. Its our wish to widen our circle of friends and what in life we can let into our hearts. In this way we feel we are offering a continuation of the deepening of meditation, contemplation or spirit; of being open, in life, to life, in all its joys and sorrows.
These retreats can be fruitful and transformative, not least because they challenge our edges.
We find the loving patience that helps us to connect and stay steady with ourselves in contemplation, allows us to be fully with others, and with the world. And in a beautiful reciprocal way as we become more intimate with others we can find new depths of intimacy with ourselves.
Going Forward
Although we can each do service work separately we are drawn toward developing an active sangha, whether on retreat or continued connection outside of them. Nourishing each others path, and encouraging each other in developing generosity, we become more than the sum of our parts.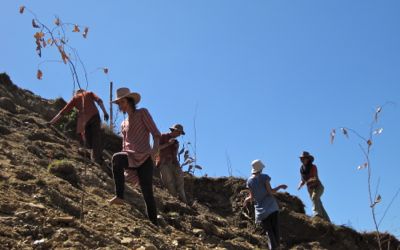 Transforming an idea into reality can take many forms. We aim to offer opportunities around the world for practicing dharma in action on both social and environmental projects. We are also happy to support and encourage more ideas and initiatives, so that we may be a nursery for positive actions.
If you would like more information about any of our projects or help and support creating your own please contact us
SanghaSeva is a not for profit collective of volunteers.
If you would like to offer financial support you are welcome to visit our donate page.
If you would like to offer your time please contact us
About the SanghaSeva team
Below is some more information about our founders, supporters, and facilitators.
Our Facilitators
On SanghaSeva work retreats we choose to have facilitators rather than leaders or teachers. A facilitator will hold the structure of the event to allow all of us to find our own way as individuals and as part of the group.
Co-Founders and other involved members of the SanghaSeva team
Site Map
Welcome to our website, here's what you can find on the site.
To read about retreats around the world that you can join, go to Upcoming Events.
To find out more about continual activities you can get involved in, or other ways and opportunities to attune your life to your hearts wishes, read Daily Life Matters
To gather a clearer picture of what we are doing you can read the feedback of participants and facilitators in Past Events.
Check out Links and Books for more information about meditation retreats and service work organisations around the world, and a list of helpful books.
Please also let us know of any organisations you think we would like to know about, or significant books that have touched you or been useful to you. We will be happy to share your recommendations to others through this page.
Visit Talks to listen online or download for free Dharma Talks given by SanghaSeva facilitators.
At Gifts that Keep on Giving you are offered the chance to give a present to a friend and stranger simultaneously. In this way you are helping people in genuine need.
Or to see more photos visit our Photo Album.
To support SanghaSeva with its running costs or to help another person to attend one of our retreats visit Support SanghaSeva
Still can't find what you are looking for, search SanghaSeva.org from here.